So
Zeldathon
09 at the
FIU college radio station
is over, It Started this past Friday August 14th and ended around 5:30am Tuesday August 18 morning. They played 7 Zelda video games in a row, non-stop, while webcasting everything to raise money for the National Children's Advocacy Center, they exceed the goal of $1,501 by raising
$1,530.50.
the recapped footage is in the archives replaying
here
Watching my self on cam is So odd, I'm so goofy and I got to work on my giggling but it seemed that I wasn't as annoying as I saw my self, the response form the people in the ustream chat towards me was all around pleasant.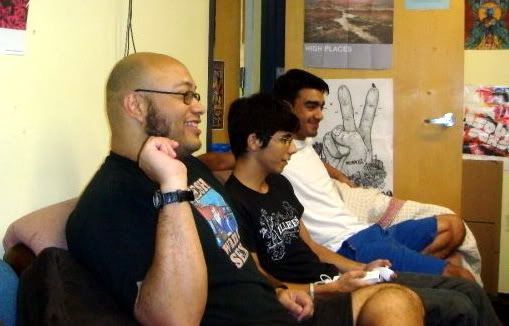 HAHA I made it a goal not to be called "the bald guy"or "the fat guy"so I painted my name on my shirt but the G in Doug was to close to my armpit so it just look like
Dou
.
Anyways it was good to be out of the house and not doing home repairs crap like the other past weeks, It's like I never got a break after my New Zealand break-up with S to just socialize an meet new people just to get her off my mind, So this weekend was the breath of fresh air that I REALLY needed. I met a lot of cool people but it seemed like this zeldathon was Sean's world seeing that most of the new people there were his friends, Good folks but I can see the difference between Miami and Broward County people that was always talked about by others and I miss the old days when I could travel between both world's.
I mostly hung out in the back the first few days because there was to many people in the office that's why I wasn't on cam that much at first half but I made up for it on the last night, Like last year the Zeldathon Team was made up of
Pablo
,
Sean
,
Andrew
(Wyzan)
played but
Juan
(johnny midnight)
stepped in after Andrew Julian announced he wouldn't be able to join in on the 90 game. Oh! and This girl from the chat last year Stephanie flew in from Boston FOR A DAY to play Ocarina of Time, she was ok but I was getting a little annoyed with her contently bring up that she was a Feminist, I was raised with Feminism and like to think of my self as a Male Feminist as well but she was ALL about labeling her self, Repeating it over and over then setting rules on what can an can't be said around her, That's SO not my stile or what I'm down with But she was Pablo's friend so I bit my tongue tried to stay out of her way and (uncharacteristically) all non-confutation about it.
On the other hand I met some awesome girl's that I wish I could hung out again with but sadly can't, Amanda and Lauren stood out among the rest, I really hit it off with them. Amanda and I had a few long intimate conversation's the second night of the games but she's doing College in northern Florida somewhere and her life's really complicated right now, She's a beautiful person so hopefully we'll stay in touch.
Lauren and I only hangout for a short wile but I felt like I new her forever, She reminded me of my old friend Ele in her openness an warmth, she seems like someone you could snuggle up with on a rainy day and watch movies with. Only problem for me is she doesn't look it but she's 16 .. well 17 starting this week, I'm ok with hanging out with under age gal's, sadly when your 31 the world isn't. As immature as I am, teen girls with old soles always seem to get me more then women my age and end up always talking to me like I'm the child. ( go figure) Well if she asked I'm open to chill, everyone knows I'm a gentlemen with only good intentions, my only vice is girly feet but from the ankles up I'm always a good boy.
On that note, fucking foot jewelry! Fucking get's me every time, Miami girls are good with flip-flop but the only time they start piling on anklets and toe rings is when they hit 50 but there's something about growing up in the white Broward world on the other hand that makes them different. What ever the reason wearing them,
Tina
(Sean's girlfriend) and Amanda little sister were killing me the entire time I was there. I did what ever I could not to get caught glancing over and it didn't help that
Tina's feet were so
perfect with her silver toe rings an her ever so pink soles Gaaah! Then Amanda's sister was something strait out of a Larry Clark fantasy with cutoff shorts, toe rings and layered anklets hahaha Dam Amanda's hot, her sis is hot hell even the pic she showed of her mom was stunning talking about good genes for what it's worth.
The highlight at the Zeldathon end was this guy who donated something like $300,30 So I was asked to make a commemorative plack, so they could send him and everyone singed it.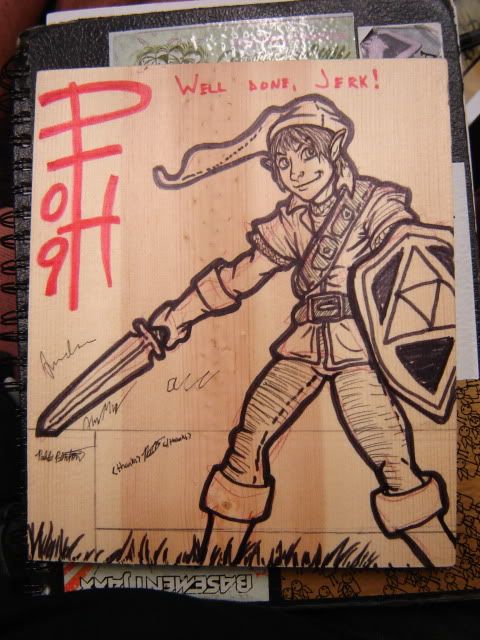 OH it's saying "Well done jerk." because that was Links name in the game so
every time he beat a level you would see "____ Jerk"
All an all it was fun and after what went on with that New Zealand crap it was somthing to take my mind off it all, only thing that sucked was I'm starting to feel my age a little hanging out with them but that's only because of some bullshit conversation we all had about only 30 somethings used Myspace and not Facebook. God I don't think it has anything to do with age but it is a little annoying that you aren't considered fully Human unless your on Facebook, Twitter and have a fancy Cellphone, fuck it's like NO one ever watched
Invasion of the Body Snatchers
Oh one last thing, as always I drew on half the girls there so I'll be posting some of the body art photos here once I clean them up a little.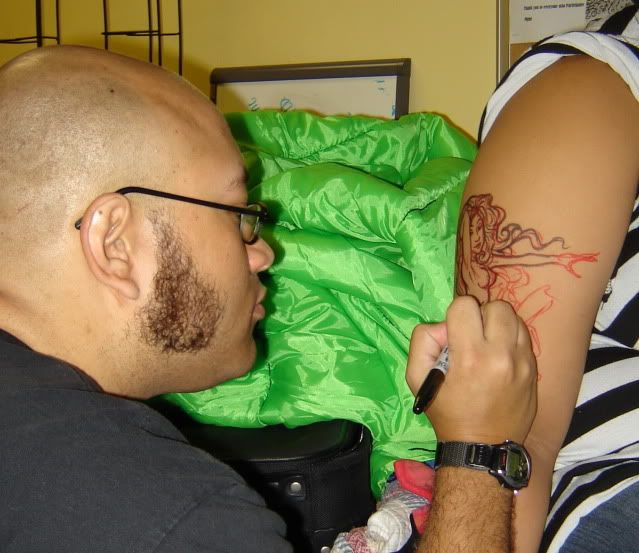 END